Buying a home can be overwhelming.
Don't let it be.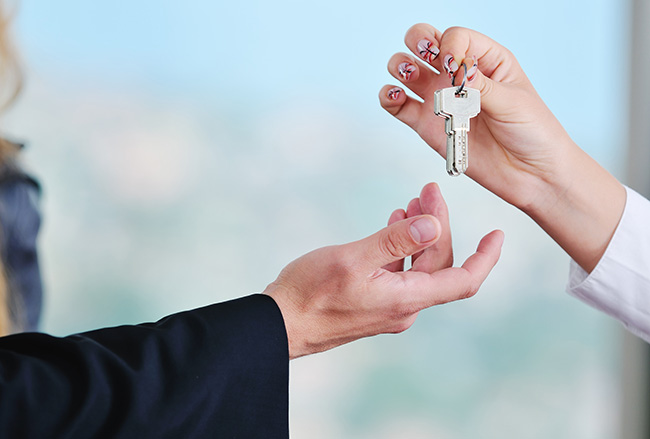 Know What You Are Looking For:
Before you start your home buying quest, it's important that you have a good idea what you are looking for. Often what one spouse wants is quite different from the other spouse. It's very important that you communicate before you start your search, or you're likely to end up with buyer's remorse or worse. Is it important to you to be close to schools, shopping, or hospitals? Is it more important for you to have a 3 car garage or an extra sewing room? How many bedrooms and bathrooms do you need? I suggest making a "Wish List" and let the sky be the limit. Make sure each person in the family gets to add their items to the list. Then, after making a list, take some time to carefully prioritize the items on the list. When it gets down to two or three homes that you are interested in, you can compare them to your prioritized list to see which one best meets what you really want and need.
Know How Much You Can Afford:
Before you ever start looking at homes, I highly recommend that you are prequalified with at least one lender. Be completely honest with the lender about your financial situation, and always ask for a "Loan Estimate". This shows the estimated costs and expenses that the lender will charge you, and it shows the loan amount that you are likely to qualify for. You may also want to ask for a "Prequalification Letter" from your lender. At some point, your dreams must meet reality. My goal is to help you find the best dream home that you can afford. If you have been prequalified, it also gives you much greater negotiating power when you are ready to make an offer. A seller is much more likely to accept an offer when they know the buyer is ready, willing, and able to purchase their home. I have several lenders that I can recommend, and I can also give you some important information about the current mortgage rates and loan programs.
Select The Right REALTOR:
There are many reasons to use a Realtor during the home buying process. Real estate transactions involve one of the biggest financial investments of most people's lifetime. A typical real estate transaction is usually several hundred thousand dollars. If you had a $250,000 income tax problem, would you attempt to deal with it without the help of a certified professional accountant? If you had a $250,000 legal question, would you deal with it without the help of an attorney? Considering the small upside cost and the large downside risk, it is simply a wise decision to work with a "professional REALTOR®" when you are buying a home. In most cases, the seller (not the buyer) pays the commission, and having a professional Realtor on your side can help you negotiate a better price and terms and help you avoid costly mistakes.

Not all real estate licensees are the same; only those who are members of the NATIONAL ASSOCIATION OF REALTORS® are properly called REALTORS®. They proudly display the REALTOR " ®" trademark on their business cards and other marketing and sales literature. REALTORS® are committed to treat all parties to a transaction honestly. REALTORS® subscribe to a strict Code of Ethics and are expected to maintain a higher level of knowledge of the process of buying and selling real estate. An independent survey reported that 84% of home buyers would use the same REALTOR® again.

Your Realtor (agent) will help you: understand the market, help you determine your buying power, assist you in finding the right property, negotiating the offer and completing all the necessary paperwork, completing the due diligence (home inspection etc.), and help you follow up with all of the entities involved (title company, lender, seller, inspector, brokers, etc.) to guide you through the closing process so that the transaction closes smoothly.
Become Familiar With The Market:
Every transaction is different, and the ultimate value of a home is determined by what the seller is willing to accept and what the buyer is willing to pay. You don't want to pay too much, but if you don't pay what the market demands, someone else will and you may lose out to another buyer. Before you make an offer (or even start looking at homes) it's a good idea to review market trends and recent sales history for the areas that you are interested in. Ask your agent to give you a list of recent sales that match your general search criteria. Pay close attention to the average "price per sq. ft." (including the lot), and the total days on market. Knowing whether you are in a "buyer's market" or a "seller's market" will be important when it comes time to make an offer.
Location Is Everything:
Before you start looking at homes, you should decide what areas (cities, general areas, subdivisions, etc.) that you are most interested in. You may want to consider income levels, crime rates, property appreciation/depreciation rates, foreclosures, school districts, and nearby amenities such as shopping, parks, gas stations, etc. Once you find an area that you like, you may want to find a safe way to meet some of the people that live there. Attending school or church functions or neighborhood activities are just a few of the ways you can learn about the area. Make sure you ask people that live in the area how they like it, what they like most, and what they dislike about the area. One factor to always consider is the "resale value" of your home. Try to find an area that has good historical values and one that you think will not deteriorate or depreciate in the future. One of the biggest factors that can effect values are zoning issues. If a mall goes in a few blocks down that may make your location more attractive. If a garbage dump or train track comes in, it could make your area less desireable. Always review the "City Zoning" and the "Subdivision C&R's" (restrictive covenants) before you buy in any neighborhood.
Select The Right Property:
Before you start looking at properties, make sure you know: what you're looking for, what you can afford, and what your timeline is for moving, financing, etc. If you follow the tips above before you start previewing homes, you will be confident and better prepared to start your search for the right home. The best place to start your search is on the Internet, and by driving around. You can
search the MLS
for all available homes listed with participating MLS members from this site. Once you have a short list of homes you'd like to see, meet with your agent to discuss and review these homes. Your agent ay have additional information, photos, virtual tours, etc. that will save you time. Then, after you have limited your search to a reasonable number, you are ready to start previewing homes. After touring two or three properties, it can be very difficult to keep them all straight and to remember what you did or did not like. I suggest keeping a one page brochure or printout for each home, and making a like/disllike list on the back of each one. Then give it a rating from 1-10 with 10 being the perfect home! After you have looked at several homes, you can limit your search down to the 2 or 3 that you are most interested in. You may want to go back and preview those homes again to compare them with each other. Once you find the right home, act decisively and quickly to make an offer that is right for you and attractive to the seller.
Make An Attractive Offer That Is Right For You:
Before you begin the home buying process, resolve to act promptly when you find the right house. Every Realtor has stories to tell about a couple who looked far and wide for the perfect home, finally found it, and then said, "We'd just like to sleep on it, then we'll make an offer tomorrow." Many times the story has a sad ending - someone else came in that evening with an offer that was accepted. You can always make an offer with a clause that gives you time to sleep on it. This way, you can back out if you need to, but you don't lose the perfect home by hesitating. Resolve that you will act decisively when you find the house that's clearly right for you. This is particularly important after a long search or if the house is newly listed and/or underpriced.

There are many factors to consider in determining the price and terms of your offer. Start with what is most important to you, and then consider adjusting the price or terms to make it a "win-win offer" for you and the seller. For example, if you can't move in for 6 months, you may want to ask the seller to sell and lease back or you may want to ask for a long contract, but in return put down (or release) a large non-refundable amount of earnest money. If you offer a lot less than what the seller is asking, you may not want to push too hard to include furniture etc. or ask the seller to help with financing. The most important thing to consider when making an offer is how likely it is that you will be competing with other buyers and how close your offer is to comparable sales. If you offer more than what other homes are selling for, you may have trouble with your appraisal and getting financing. If you offer less than what the seller owes, you may be tied up for months waiting for a short-sale approval from the lender.

Always have your agent present your offer with a "Net Sheet" prepared for the seller and your "Prequalification Letter" from your lender. You may want to present (in a tactful way) a list of items that you noticed about the home that will need repair or that you did not like. This can help justify a less than full price offer. You might also present a CMA or price analysis (or other statistical reports from the MLS) that help justify your price. You may also want to consider providing a "Cover Letter" that contains this information to have your agent present with the offer.